Last night, I was invited to Max's Burgers for their media launch. Owner Bruce Redpath of Redpath Foods brought in chef Connor Butler (formerly of Restaurant Connor Butler, Pearl on the Rock, and C) to this casual 1,240 square foot Fairview space to design the gourmet burger and comfort food menu.
Redpath is also behind Max's Deli and Stuart's Bakery (the latter of which supplies Max's Burgers with hamburger buns and desserts).

[Chef Connor Butler, Owner Bruce Redpath]
This new burger destination, smack dab in the Cambie/Broadway corridor, will feature fresh Albertan beef, Kennebec fries with fresh black truffle mayo, and sinful drink concoctions such as the Fraser River Mud Shake and the Pop Shoppe Pina Colada Float.
In other words, an adult top-quality version of a kid's hamburger chain. Max's Burgers uses as many local ingredients as possible, creating some seriously tasty burgers as well as competition for Vancouver's other top quality gourmet burger establishments.
We were treated to a sampling of Max's burgers in a smaller slider style, in order to fit everything in on the menu! There's a British Columbia burger (my favourite of the group) with Applewood smoked bacon, bacon marmalade, and cheddar cheese, the Rooster on a Tailgate (grilled chicken, red onion rings, 40 Creek BBQ, chipotle mayo and Swiss cheese), a King crab Po'Boy, and for the vegetarians, Gargamel's Stuffed Toadstool burgers, with portobello mushroom, charred tomatoes, and Swiss cheese.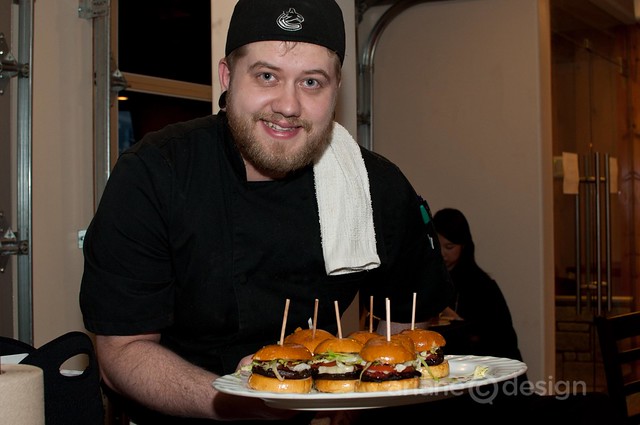 [Chef de Cuisine Travis Redpath serving up the sliders]
If calories aren't an issue, consider The Behemoth, where for $55, four mouths can be properly fed on 24 ounces of hand-formed patty on a custom roasted garlic bun, over a pound of toppings, an ice cold pitcher of draft and a Triple By Pass (yams, fries, 'n' rings).
Chef Butler was busy drizzling gravy on the poutine when I caught up with him at the counter. Being close to the action, I also checked out the gorgeous array of desserts ready to be served afterwards.

[Lemon Meringue Tart]

[Red velvet cupcake]
Desserts will be priced at $3.99 each. As well, Max's plans to serve seasonal house baked pies at $3.99 a slice.

[Chocolate Decadense Cake]

[NY Cheesecake]
The full Max's Burgers experience also involves trying some of their drink concoctions. Case in point: Liquid Lunch (bacon infused Stoli, Tabasco sauce, worcestershire sauce, clamato, celery salt rim garnished with lime wedge, pepperoncini pepper and crispy bacon stick). I wasn't sure whether to call it a drink or a meal!

[Liquid Lunch]
Further down the beverage list, the tantalizing Fraser River Mud Shake (Southern Comfort, Kahlua, vanilla ice cream and chocolate syrup) and the Orange Creamsicle Shake (Stoli, Triple Sec, orange reduction, vanilla ice cream and candied orange peel garnish) catered to the sweet-with-a-touch-of-alcohol-tooth in me.
There's also a decent range of soda fountain offerings, as well as beer, wine, and highballs.
Kennebec Fries are served with bits of black truffle atop the mayo. Schloppy Chili Cheese Rings just ooze with chili and cheese for the onion ring lovers out there. I enjoyed the poutine, served with just the right amount of curds and gravy.
Look for Max's Burgers at 521 West 8th Avenue in Vancouver (west of Cambie Street, across from Whole Foods). They will be open for lunch and dinner starting January 23.