I love mobile technology. I love how I can stay connected to everything and everyone without actually having to be tethered to anything or anyplace. Like most active people, I take my phone and my music everywhere – out shopping, to the gym or on a walk. 
However, although devices have cut the cord, most earphones have not. The mess of wires are forever getting tangled in my long hair and I am convinced I have warped ears because earbuds perpetually pop out, so I was thrilled to test drive a pair of Outdoor Tech Orca Active Wireless Earbuds. Would they perform like Johnson's Baby Shampoo: no more tears and tangles? Would they fit like peas in a pod, snug as a bug? Most importantly, how do they compare to their wired siblings?
 
The Orcas connect wirelessly via Bluetooth 4.0. Accessories include a USB charging cable, carry pouch, three sizes of foam ear tips (S, M L), three sizes of secure-fit ear cushions (dubbed "fins" after its namesake, the Orca whale), stickers and a user manual. The earth-friendly philosophy behind these earbuds is that Outdoor Tech will donate one dollar from every pair sold to the non-profit Whaleman Foundation.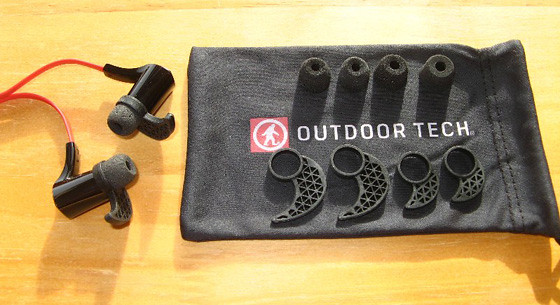 The earbuds are fairly intuitive to use, requiring two hours for a full charge via the USB port on the right earbud (under the Yeti logo). 
 
All controls and a microphone are integrated onto a flat 3mm cable, connecting the earbuds. The inline controls allow for effortless volume adjustment, track changes, and basic call functions (answer/reject/hang up). Simple to use and easily accessible, the buttons could benefit from more definition on the control rod. 
I fumbled a couple of times for the middle multifunction button during a vigorous workout. However, that still beats having to dig through my gym bag for the buzzing phone.

[L to R: Pairing with Samsung S2 and Blackberry Z10 devices]
 
I paired the Orcas with both my Samsung and Blackberry phones to assess if there was a difference in ease of use for either device. The pairing process was seamlessly stress-free on both phones.
 
I didn't notice any difference in response on the devices except for that the audio quality from the Blackberry sounded a bit better. I didn't expect wireless earbuds to have the same quality as my wired ones. 
Most Bluetooth devices employ a standard SBC (Low Complexity Subband Coding) codec to compress the audio for wireless transmission. Once received, the earbuds have to decompress the audio data and this process strips down full spectrum sound. 
Depending on the level of SBC, on both device and headset, the end result could be tinny and distorted. The Orcas' specifications indicate enhanced aptX and AAC (Advanced Audio Coding) codecs are used rather than the default SBC. These enhanced codecs are meant to reproduce better sound quality by utilizing different methods of audio encoding and data transfer rates.

[Photo courtesy of Outdoor Tech]
I was a bit skeptical because aptX is currently owned by the Bluetooth chipset manufacturer; CSR and its logo must be branded onto any device that uses its technology. 
The Orcas lack the CSR logo. Likewise, AAC support in wireless headsets is uncommon, although this codec is prevalent on platforms such as iTunes and YouTube. So I was not surprised that the Orcas lacked some audio fidelity. Because the earbuds are neither noise cancelling nor noise blocking, I cranked the volume while running on a noisy treadmill or outside in traffic. I am an avid fan of audiobooks and had hoped to listen to one while riding the Skytrain. 
Sadly, the ambient noise was too loud to make it practical on the Orcas. Also, when taking calls, listeners commented that they could hear the background noise although my voice came through clearly. 
There are however several positive aspects to consider:
– I was more aware of my surroundings because the Orcas did not completely filter sounds
– I could concentrate on my conversations since callers were in stereo
– Although the volume was cranked, very little sound leaked from the earbuds. Those seated next to me were not inflicted by my taste in music, or lack thereof. 
 
The endurance of the Orcas was true to specifications. I enjoyed 5+ hours of continuous use with one charge, enough to take on a day-long hike. They should go a full week if only used in standby mode. The range was limited to about 30 feet (nine meters), which is typical of short-distance Bluetooth gadgets. A very calming voice prompt will advise if you are "out of range" or at "maximum volume". 
The Orcas are advertised as sweat-proof and splash-resistant. Although my routines were never intense enough to fully test those claims, they were unscathed when I took them for a quick après-workout shower. These earbuds are super light-weight (13g) so judging by their construction, I would surmise they are neither impact-proof nor sand-resistant. In other words, no running on the beach or boxing matches.
 
[Photo courtesy of Outdoor Tech]
 
If I Could Change One Thing
The one aspect I would like to change about the Orcas is their dimension profile. Compared to other headsets, they are fairly long at 33mm (including buds).  
I also tried all three foam ear tips and none of them fit into my ear canal properly, even the smallest one. The Orcas perpetually fell out. 
 
However, once the fins were inserted, they did a fairly good job of staying secure. I used the largest fins and although they were snug, my ears throbbed over time because they were a tad big. The Orcas would fall out with the small or medium fins so those were not an option for me. 

[Photo courtesy of Outdoor Tech]
Because the earbuds protrude out, I would dislodge them when taking off my bike helmet or even a scarf. So alas, the promise of a cushy, comfy fit remain unfulfilled. Although I found the flat cord a bit stiff, it remained faultlessly tangle-free, whether worn in front or behind the neck.
 
In Conclusion
After a week of continuous use, I would rate the Outdoor Tech Orca Active Wireless Earbuds as a positive Try, on a scale of Buy, Try or Pass. The shape of an ear is as individual as its owner. Outdoor Tech acknowledges this and provides a range of options. You may find just the right fit for you. 
The Orcas' sweat-resistant, wire free and simple-to-use design is ideal for people on the go. Retailing at $100, the performance of these earbuds is within range of its competitors. You'll have to be prepared to cut out some full spectrum sound in order to fully cut the cord. I was sent a pair of Orcas for the purpose of test-driving for this feature.
Where not expressly mentioned, photos by Cora Li.