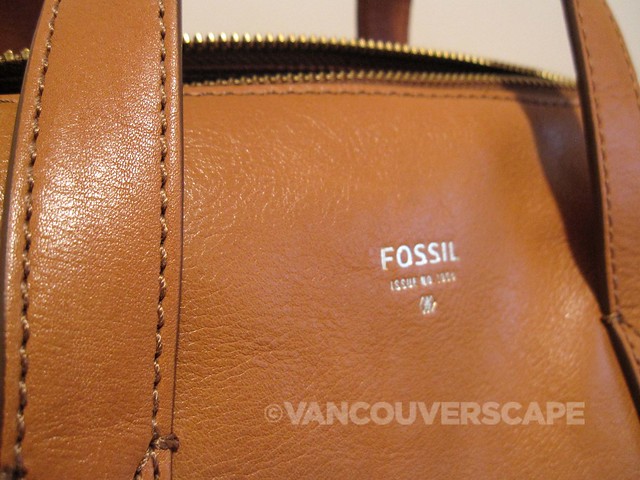 Texas-based Fossil is now entering its third decade of men's and women's fashion accessories and essentials. The founders, brothers Tom and Kosta Kartsotis, named the company after a nickname for their father.
Fossil started out as a fashion watch company with a retro twist, using colourful tins to package their line. Since then, the company has grown tremendously to include jewelry, wallets, belts, clothing, shoes, sunglasses, and coveted handbags.
From the moment that I spotted the Fossil Sydney Satchel online, I knew it would be the perfect accessory to wear around town. The shape is classic and not too wide, its unobtrusive profile preventing you from bumping the bag into everyone else on busy streets and on transit.

[What's in my bag? An iPad, notebook, PowerTrip portable charger, iPhone, wallet, tissues, water bottle, bus tickets, papers, pen, keys, business card holder, Burt's Bees lip shimmer]
There's a couple of pockets inside and out, and the bag's top-zip closure unzips fully on both sides for easy access. A back slide pocket is the perfect home for a smart phone, and the Sydney even fits a regular-sized iPad, along with my wallet, water bottle, keys, and other essentials.
The flat double-handled satchel has a detachable strap; you can wear the Sydney as a satchel or as a cross-body. The vintage-looking leather exterior is soft and supple.
The bag's interior is made of 100% cotton twill with four gold metal buttons for protecting the leather on the bag's bottom.
I found an easy decision in the camel color, making it easy to pair this bag with just about any outfit through the seasons. It's also available in Heritage blue, real red, gold metallic, bright pink, black, brown, and mint.
The Sydney is versatile enough to wear from the office to a night out while fitting a lot into a bag of its size. It measures an easy-to-port 10.5″ (L) x 5.5″ (W) x 8″ (H).
I own several Fossil purses and wallets and always look for their organizer pockets, stylish features, and great design. The Sydney Satchel is no exception.
Note to readers: The model that Fossil sent me contains an interior zippered pocket, while the regular model contains two rows of credit card slots below the zippered pocked as well as a clip-on key fob.
Details
– Zipper closure
– Back slide pocket
– 20 3/4" detachable strap and 3 1/2" handles
– Interior media pocket and zippered pocket
The Fossil Sydney Satchel retails for $178 US and is available in Canada at The Bay and at other Canadian Fossil retailers for $218.