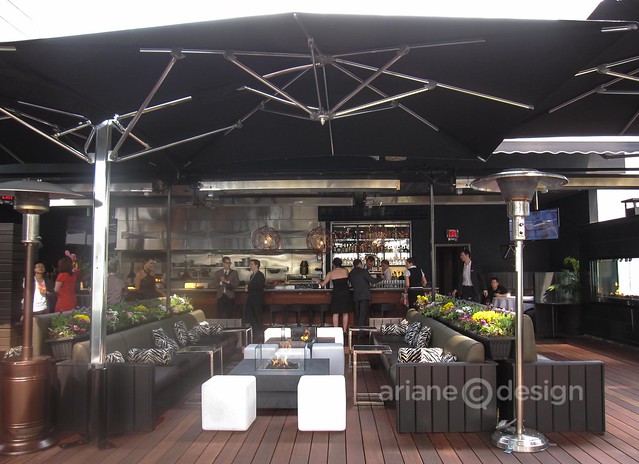 Glowbal's Black+Blue steakhouse has opened a beautiful rooftop dining experience: The Roof at Black+Blue. The restaurant and lounge space is well-heated with ample room to spread out and chill with views of the city.
I was invited to a packed house last night to enjoy an array of beautiful appetizers, cocktails, wines and spirits while engaging in friendly conversation and watching the chefs at work.
Black & Blue carries a large selection of fine meats from around the world. Hand-carved steak, jerk chicken, bacon-wrapped scallops, prawns, flatbreads, mini sandwiches and sweets were some of the appetizers being passed around this cool new space.
Executive Chef Jason Labahn presided over the outdoor oven, busy preparing bacon, steaks, and jerk chicken directly from oven to counter. I noticed that no food lasted very long on that marble counter either!

[Arrival at Black+Blue's The Roof]
The Wood Stone Josper Charcoal Broiler oven can reach temperatures of 1700 degrees Fahrenheit, adding a new spin on the word charbroiled. The Josper oven's tradition began in Spain over 40 years ago; it's now owned by more than 20,000 customers in over 50 countries.
Chef Labahn will get a lot of use out of the Josper, cooking up prime meats, skewered fish, seafood and chicken over the grill's wood coals.
The Roof has an adjustable electronic ceiling depending on the weather; 120 guests can be accommodated al fresco rain or shine. There's curved booths, tables, bar seating, and cozy benches with smaller tables.
Two walls of glass-enclosed fireplaces add warmth and a romantic vibe to the modern design.

[Chef Labahn with owner Emad Yacoub]
Congrats to owners Shannon Bosa-Yacoub, Emad Yacoub, and Chef Jason on this gorgeous new endeavor.

[Meat lovers unite: floor-to-ceiling glass case of meat cuts on the restaurant's main floor]
The Roof at Black+Blue is officially open as of today and is a wonderful urban space to enjoy with friends over a relaxing meal and drinks.
Black+Blue is located at 1032 Alberni Street (on the 3rd level) in downtown Vancouver. They're open seven days a week from 11:30 am to 10 pm as well as weekend brunch. Visit the website for detailed menu information.