What goes into your meals? Do you know where the produce comes from, or where your meat was raised?

UBC Farm's Joy of Feeding is a way to sample locally-sourced ingredients that go into creating dishes from regions around the world. Now in its third year, the popular event was held over the long Canada Day weekend.

[Anya, Maya, and Ella Levykh]
Simple, home-cooked meals were shared by 16 chefs and food lovers, feeding a hungry crowd their regional dishes on Sunday afternoon. From Fijian Aloo beans to Turkish lentil and bulgur koftes, a colourful range of food was prepared and served on site, as varied as the countries represented.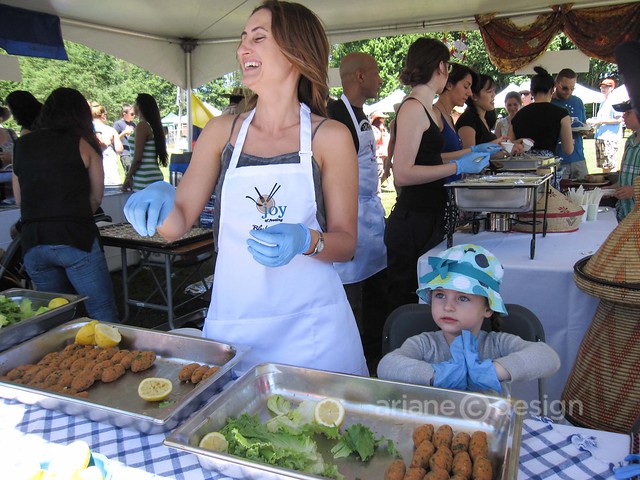 [Elyem Sonmez from Turkey, serving up lentil and bulgur koftes]
My favourite dishes were from Malaysia (prawn and squid sambal), Colombia (Ajiaco – chicken and potato soup), Turkey (lentil and bulgur koftes), Serbia (Cokoladna Torta – chocolate walnut cake), and Ukraine (Azerbaijan meat dolma).

[Food tents, sugar pies, and a happy crowd]
Other countries included Sudan (Molokhiya lamb), Nlaka'pamux Interior Salish (hot smoked salmon), Caribbean (jerk chicken), Fiji (Aloo beans – potatoes and green beans), Russia (Olivier potato salad), Basque Country (tortilla de patatas), Vancouver (mozzarella, nut butter, and jelly pizza), Mexico (Cochinita Pibil), Scotland (shortbread), French Canada (tarte de sucre), and Lebanon (Megli – spice pudding).

[Patricia Low's handwritten recipe collection]
Here's the list of each chef, their home country, and their chosen dish:
Patricia Low, Malaysia | Prawn and Squid Sambal
Miguel Maurer, Colombia | Ajiaco (Chicken & Potato Soup)
Angelina Froste, Nlaka'pamux Interior Salish | Hot Smoked Salmon
Alfredo Perdomo, Caribbean | Jerk Chicken
Zeenat Ali, Fiji | Aloo-Beans (Potatoes & Green Beans)
Anya & Ella Levykh | Olivier Salad
Osman Osman, Sudan | Molokhiya Lamb
Yana Lobacheva, Azerbaijan/Ukraine | Meat Dolma
Elena Serrano, Basque Country | Tortilla de Patatas
John Jandera, Vancouver | Mozzarella, Nut Butter & Jelly Pizza
Eylem Sonmez, Turkey | Lentil & Bulgur Koftes
Graciela Nunez, Mexico | Cochinita Pibil
Laura McMurran, Scotland | Shortbread
Genevieve & Patrick Robert, French Canada | Tarte de Sucre
Majid Khoury, Lebanon | Meghli (Spice Pudding)
Jelena Vukmirica, Serbia | Cokoladna Torta (Chocolate Walnut Cake)
Located at the city's westernmost point, UBC Farm's 24 hectares of both integrated farm and forest lands on the South Campus offer an important working agricultural community, engaging innovative programming, urban Aboriginal kitchens, Farm Market, year-round sustainable architecture practicum and a variety of courses and projects.
In addition, UBC Farm provides both a vital sustainable and innovative food system for the city. Students and researchers alike can learn from the farm, later turning their knowledge into creating more of these farms around Vancouver, British Columbia, and beyond.
Joy of Feeding again helped raise funds for the farm. Organizer Meeru Dhalwala and her team put on a complete event with live music, refreshments, educational booths and food – plenty of glorious home cooking, all served up with a smile.

[Molokhiya Lamb]

[Miguel Maurer serving up Ajiaco (Colombian Chicken and Potato Soup)]
Visitors were also invited to visit the farm, where fields of greens, apple orchards, and several greenhouses contain a nearly year-round bounty. Seeing how your food is grown – especially for the younger generation – helps connect us to our nutrition. As well, each guest received a souvenir cookbook with all the recipes prepared as well as a personal bio of each cook, a great personal touch and way to get more people into the kitchen and out of the fast-food restaurants!

[All of the dishes of the day. Superb variety and flavours!]
Here's a look at some of the action. More of the day's photos can be found in my Flickr set. A Farm Market is held on Saturday mornings. Visit the website for more details.
Disclaimer: I was invited to attend the event as a media guest.