The Fish Shack has been open just shy of two months now, and I finally had the chance to visit over lunch this week.
What I like about this restaurant is the attention to detail, particularly when it comes to oysters. An entire fresh sheet is dedicated to selecting your oysters (plus the catch of the day). Just look for the red FS stamp over the fish and oyster choices on offer.
Buck-a-shuck is available from opening until 5 pm daily. This deal also includes some of the premium oysters, depending on what's in fresh that day. Two oyster pros on rotating shifts help answer questions customers have about oysters.
Think of Todd Atkinson and Ian Peck as your oyster stewards! During lunch, I learned that premium oysters differ from regular ones in one way: the premiums are not beach oysters. Premiums also have little to do with size.

[Executive Chef Alfred Contiga with oyster man Todd Atkinson]
Speaking of pros, Ian Peck came in 4th place in the 2008 World Oyster Shucking Competition, after winning First Place in the Canadian Championship. That translates to perfectly shucking 18 oysters in 1:05 minutes!
10 years ago, Ian worked at Rodney's Oyster House in Toronto, served as Rodney's Vancouver's in-house champion for two years, later joining the Chewies team in Kitsilano before landing at The Fish Shack.
Todd was an original partner at Rodney's, and most recently the owner of Todd's on 6th, a small café off Granville Street. When he learned of Glowbal Group's plans to open a fish restaurant with an oyster bar, he couldn't pass up the chance.
Every time oysters are served (or when the "Hook It and Cook It" hashtag is tweeted to the live Twitter wall near the large screen TVs), the 25-pound ship bell rings. Free dessert? It's yours for the tweeting.
In fact, this is the first time I've seen a restaurant with a dedicated Twitter wall. It fits into both The Fish Shack's casual atmosphere as well as its social media-friendliness.
Our group started with mini New England clam chowders served in a sourdough bowl. The little brother of the regular size bowl ($8.95), the taster size is offered as a sample.
We then enjoyed three types of oysters: Light house (Denman Island), Shakespeare Point (BC coast), and Sawmill Bay (Read Island, BC). All were delicious and incredibly fresh, though the Sawmill Bay were my favourites. I tend to like the larger oysters, and these have a sweet-smoky finish to them.
Fish and chips play centre stage on the menu. You can order one or two-piece meals with fries, tartar sauce, and coleslaw three different ways. It was hard to choose between halibut, lingcod, salmon, haddock, snapper, oyster, and prawns, but I was very content with my two piece salmon meal ($16.50). Gluten-free options are available as well.
Spag and Meatballs, half-roasted chicken, sandwiches, salads and burgers are on the menu for non-fish fans. Grilled or blackened fish, fish tacos, surf and turf, it's all here at The Fish Shack. If you fancy a lot of variety in your fish meal, the Fisherman's Catch is pretty sweet too.
An entire bag of dungeness crab, mussels, snow crab, prawns, calamari, and crayfish is cooked up together with potatoes, corn, and chorizo. I do plan to return to try the Catch.
This is a fun, informal place to hang your hat and dig into some of the freshest seafood in town. If you can manage room for dessert, there's three choices on the menu: Sticky toffee pudding, apple & berry crumble, and New York style cheesecake ($8.50 each).
I went for the sticky toffee pudding. The cake is cooked in toffee sauce right after baking, to seal in the rich flavours. On top is a dollop of cinnamon chantilly cream and a few berries. This warm goodness was the perfect cap to my meal.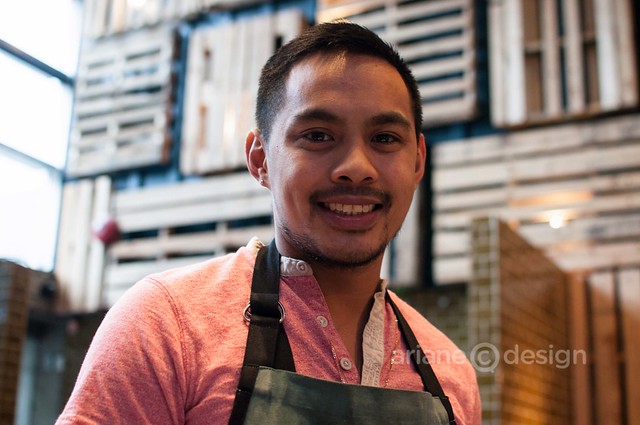 Executive Chef Alfred Contiga is the man behind the ninth Glowbal restaurant and most recently served as SOCIETY's chef in Yaletown.
The interior is nautically-themed, designed by Vancouver's BOX Interior Design, the creative team behind several Glowbal Collection establishments. One wall is lined with palettes, another contains a massive chalkboard listing types of fish, their typical weights, and other interesting tidbits.
High ceilings and large windows allow a good amount of natural light inside. I like the red banquettes that offset the small padded black and off-white diner chairs at the tables.
And then there's the fun HOOK IT & COOK IT framed letters against the wall near the entrance. A smaller room upstairs can accommodate larger groups. Pull up a stool at the long marble-topped counter to check out the oyster-shucking action.
On the drinks side, The Fish Shack serves up a Caesar Fleet (four different concoctions including Red Sky in the Morning and Sunday Bloody Sunday), cocktails, draught and bottled beer, plus a selection of BC/international wines by the glass or bottle.
A couple of other worthy mentions is the Sunday brunch featuring fish and chips Eggs Benny, and the Lobster and Crab Fest on Sundays. For $19.95, you'll get a pound of lobster or pound and a half whole crab to enjoy every Sunday.
The Fish Shack is located at 1026 Granville Street and is open Monday to Thursday, 11:30 am to 1 am; Friday, 11:30 am to 2 am; Saturdays 10:30 am to 2 pm; Sundays 10:30 am to 1 pm. Visit the website for detailed menu information.
My lunch at The Fish Shack was kindly hosted by Glowbal's media representatives. Opinions, as always, remain my own.