Salt Spring Island's Third Annual Fine Art Signature Showcase opened last Friday, and I was invited to the island to meet some of the 40 juried artists in the exhibition. This popular nine day show runs through Saturday, July 7 at ArtSpring Center for the Arts.

[Tilai, admiring himself in "Tilai"]

[Carl Sean McMahon with Matt Steffich, Steffich Fine Art]
I was led on a gallery tour prior to the evening event (including a stop at Steffich Fine Art; owner Matt Steffich is the event's organizer) and was amazed at the amount of talent contained within this relatively-small Gulf Island. As an organizer, I would have found it challenging to pick 40 out of the hundreds of creatives scattered around Salt Spring.

[Anthony Matthews, Pegasus Gallery poses with artist Randolph Parker and his "Wells Gray Inspired"]
The exhibit gives artists the opportunity to create original works (using canvas, stone, gold, wood, three dimensional art in clay or metal, photography, and other media) with no size, subject matter, or material restrictions.

[Deon and Kathy Venter posing with Deon's "Pyramid Missing #8"]
Internationally renowned artists/couple Deon and Kathy Venter each have a piece in the exhibit. Originally from South Africa, the Venters have called Salt Spring home for nearly 25 years. Kathy recalls, "We came to Salt Spring in the late '80s, a perfect setting that was isolated and out of the way of the pressures for artists living in the major centres. Back then it was certainly a draw for young artists, who came first to avoid the crush of high rents and were drawn by the natural beauty and the rural landscape."

["Untitled" by Janis Woode]
"The culture of the island, its people and setting are evident in many of the works being created by artists who have lived here over many decades," she added.

[Writer Kathy Page with Elizabeth Yake, Producer, True West Films]
I was able to meet several of the artists, as well as writers, film producers, and the majority of the arts community that evening. The exhibit space was packed and the conversation flowed out to the patio, along with chilled glasses of wine and beer. It was a great way to engage with Salt Spring's finest artists and art lovers.

[Peter McFarlane with his "Lawn mower blade bonnet"]
This year, both a People's Choice and Best in Show awards were added to the signature art event. In case you missed the showcase opening, all works will remain on display from 10 am to 5 pm.

[j.d. evans posing with her piece, "Changing States"]
In addition to the Signature Showcase, several upcoming events include tonight's salon style discussion featuring Marsha Lederman, Western Arts Correspondent from the Globe & Mail (7:30 pm), Wednesday, July 4th's Art Night (a roundtable discussion of the show; email Michael Robb at mhrobb@telus.net for details), and a Dinner in the Gallery on Friday, July 6. The Salt Spring Arts Council will sponsor at fresh BBQ Sockeye salmon dinner with wine, local strawberry shortcake, and other dishes. Seating is limited to 50; email info@ssartscouncil.com for more information.

[Gillian McConnell with her mixed media piece, "Fetch"]

["Liz. My Pet Glockenspiel" by Jerry Ringrose — my personal favourite amongst the collection. Another view of it]
The Council helps to foster a positive environment for a broad range of arts groups and individuals: visual artists, performing artists, literary artists, artisans, craftsmen, writers/poets, painters/sculptors, singers, dancers and actors.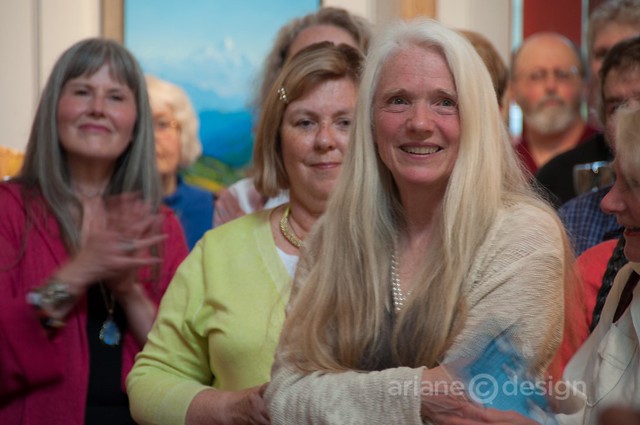 [Artist Carl Sean McMahon with his piece, "Nexus"]
To learn more about the Fine Art Signature Showcase, visit Salt Spring Fine Art online.

[Artist Diana Dean posing with Tilai, subject of her painting]
ArtSpring is located at 100 Jackson Avenue, Salt Spring Island.