Vancouver Codes by Douglas Coupland launches January 16 and will run through January 31 on the Canada Line video screens. One of 15 public art projects commissioned by the City of Vancouver's Public Art Program for Vancouver 125, Vancouver Codes is the eighth in the 10 Seconds series of commissioned works for the Canada Line as part of a yearlong project celebrating Vancouver 125. A new work will be featured each month on the Canada Line through March 2012. The piece will be played every two minutes to an estimated audience of over 100k daily commuters.
Vancouver Codes is the latest body of recent work by Douglas Coupland that extends the graphic black and white QR code into the realm of colorful modernist painting while retaining the coding's original interactive function. The QR (Quick Response) code is a matrix barcode designed in 1994 by Toyota subsidiary, Denso Wave, to track vehicles during manufacturing. 

[QR code sticker series. Photo credit: scott_bl8ke on Flickr]
QR codes consist of black modules arranged in a square pattern on a white background and more recently, have become popular due to easy programmability, large storage capacity, and its ability to decode at a high speed. QR code Information is made up of data (numeric, alphanumeric, byte/binary, Kanji) and can be linked to a web URL. Easy to use, QR codes are readable on camera phones or by using a QR reader application that scans the code, decodes it, and then presents the information on screen.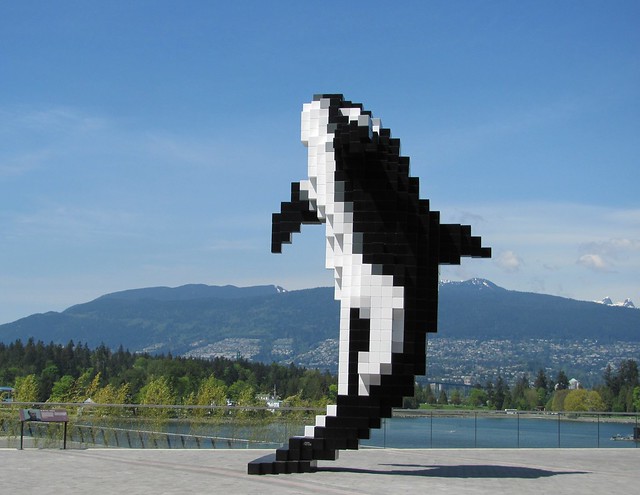 [Digital Orca by Douglas Coupland. Photo credit: susan gittins on Flickr]
In Coupland's Vancouver Codes, 10 seconds of elegantly shifting codes link to 20 pieces of data, including Youtube videos, photographs of various sites such as Grouse Mountain and Van Dusen Gardens, public artworks including Coupland's Digital Orca and Terry Fox Sculptures, written messages, and a link to On Main Gallery. All great reasons to take out your smart phone, scan that screen, and see where Coupland takes you.
In 2011, Coupland exhibited several new paintings that played on the use of QR codes. These paintings function as both 2D works of art as well as codes that can be scanned to receive a message. Two of these paintings, Live Long and Prosper and Everything Beautiful is True, form part of Vancouver Codes.

[Photo credit: Western on Flickr]
 
About Douglas Coupland
Douglas Coupland is both a popular Canadian writer and visual artist. His fiction is complemented by works in design and visual art arising from his early formal training. His first novel, the 1991 international bestseller, Generation X: Tales for an Accelerated Culture, popularized terms such as 'McJob' and 'Generation X'. Since that time, he's has published 13 novels, a collection of short stories, seven non-fiction books, and a number of works for film and television. Since resuming his practice as a visual artist in 2001, Coupland has exhibited in North America, Europe, and Asia. Recent major commissions include a Terry Fox memorial for Vancouver (2011) and a memorial for fallen firefighters in Ottawa (2012).  
10 Seconds is curated by Paul Wong and presented by On Main in partnership with InTransitBC. It's commissioned by the City of Vancouver Public Art Program with the support of Vancouver 125 and the participation of the Government of Canada.